Nano Coatings
The ABCs of fluoropolymer Nano Coatings
What is a fluoropolymer coating?
A fluoropolymer coating is a material comprised of fluorocarbons and characterized by carbon-fluorine bonds.
Chemically inert, fluorocarbons are not susceptible to Van der Waals force. This means they are hydrophobic, non-stick and friction reducing.
Also, due to their fluorine bonds, fluoropolymer coatings demonstrate a high level of durability as well as resistance to acids, bases and most solvents.
What are nano coatings?
They are typically applied at a few microns. Some coatings are applied at 0.25um or even less.
What are the typical properties of fluoropolymer's?
They can include:
Being highly hydrophobic (water repellent)
Having a high moisture barrier
Being highly oleophobic (oil repellent)
Having a high chemical resistance
Having a high lubricity (low friction)
Having high dielectric properties
Suitable for sterilisation
Providing high corrosion resistance
Providing good abrasion / wear resistance
Note, not all of the fluoropolymer coatings have all of the above properties. But, some of the coatings can in fact have almost all of the properties.
---
What sectors are fluoropolymer nano coatings being used?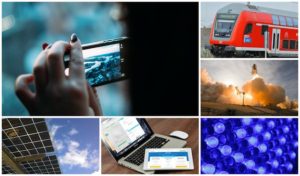 Nano-coatings are used in almost all industrial sectors.
They include:
Aviation
Aerospace
Defense
Automotive
Industrial
Oil & Gas
Electronics
Medical/Pharmaceutical
Optics
Telecommunications
White goods / Commercial
---
What products are actually coated in fluoropolymer nano coatings?
Products coated with nano coatings include:
Circuit boards
Mobile phones
Tablets
Automotive parts (gears, rotors, pistons)
Commercial bake-ware
Filters, filter housing
Glassware, labware
Machine parts/components
Printing equipment
Sintered metal parts
Catheters
Guidewires
Fasteners
Screen, mesh (metal/synthetic)
Filter media (cloth, synthetic)
O-rings, gaskets, seals
Silicone rubber
Solenoid, springs, coils