Thin Film Partners is pleased to announce the launch of a wide range of services and advanced capabilities in chemical testing, surface materials and other analytics.
---
Listing of Analytical Services
A recent addition to the family of Associates of Thin Film Partners enables us to extend a diverse range of analytical techniques and tests.
We can support your R&D projects and clients.
Our team can solve quality issues.
Our expert team can trouble-shoot, mitigate risk and tackle advanced challenges.
Our lab can test an expanded range of chemicals and substrates.
Offering analysis of surface microstructures and materials (polymers, films, conformal coatings, metals, plastics, ceramics, glass, and various impurities or contaminants).
Chemicals and contamination analysis.
Forensic investigation and failure analysis.
Particle and elemental analysis, including depth profiling and cleanliness.
Complete services in Electron Microscopy Scanning (ESM), including x-ray diffraction and Nano-materials evaluation.
Working in all industry segments: Medical, Aerospace, Aviation, Defense, Automotive, Consumer Electronics, solar, semi-conductor, LED, Sensor, and MEMS
Our services extend to the global community.
---
Specialized Characterization Range of Services
Morphology of coatings
Characterization of surface defects and drying spots at high resolution
Release profiles for drug eluting stents
Cross-section imaging of coatings on wires and stents
Characterization of raw materials such as polymers and drugs using spectroscopy
Biocompatibility studies using cell culture
---
Materials Characterization Equipment
Available to Thin Film Partners are three electron microscopes and a cluster of instruments for materials characterization, including the following: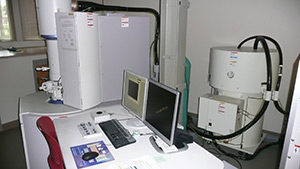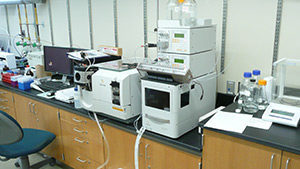 Scanning Electron Microscope
Environmental Scanning Electron Microscope
FTIR- Fourier Transform Infrared (Spectrophotometer
Raman Spectroscopy
Liquid Chromatography Mass Spectrometer
Sample preparation instruments such as microtome, polishers, cutter and, sputter coaters
Optical and Fluorescence Microscopes
FEI Quanta 3D FEG Focused Ion Beam and Environmental Scanning Electron Microscope (FIB/ESEM)
Hitachi S-4800 UHR Scanning Electron Microscope (SEM)
Hitachi HD-2300A Scanning Transmission Electron Microscope (STEM)
Veeco Nanoscope IIIa Multimode Scanning Probe Microscope
Varian Excalibur Series Fourier Transform Infrared (FTIR) instruments, the FTS-4000 Spectrometer and the UMA-600 Microscope
PerkinElmer Diamond Differential Scanning Calorimeter (DSC)
TA Instruments Q800 Dynamic Mechanical Analyzer (DMA)
TA Instruments Q50 Thermogravimetric Analyzer (TGA)
Rigaku Ultima III X-ray Diffractometer with Small Angle X-ray Scattering (SAXS)
Jobin Yvon Horiba Confocal Raman Spectrometer
Bruker FT-Raman Spectrometer
Micromeritics ASAP 2020 particle and porosity analyzer
Thermo Scientific XSeries2 ICP-MS
Rheometer and Pycnometer
UV/Vis Spectrophotometer
Tantec Model CAM-MICRO Contact Angle Meter
Instruments to support analyses, such as sputter coaters, ultra-microtome, critical point dyer, fluorescence microscopes and optical microscopes are also available.