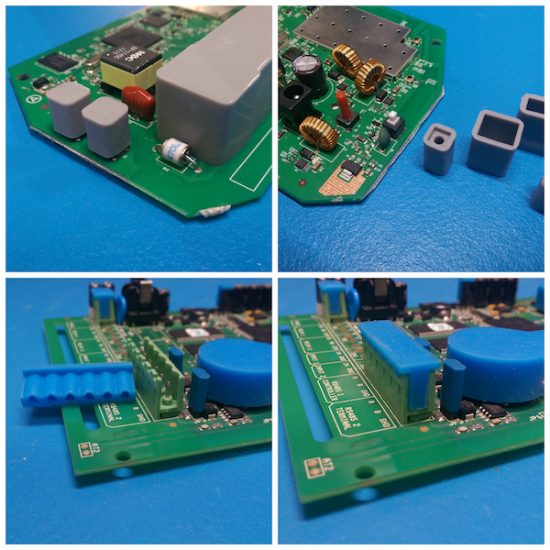 "We had initially wanted to try SCH's conformal coating masking boots for price savings. However, once we began to work with Lee on our specific masking application, we realised that we could extend the life of our boots over 200%. We switched immediately.We then realised the importance of working with someone who understands coatings. We will not being going back to our previous supplier."
Sean Horn, Director, Diamond MT, Parylene and Conformal Coating Subcontract Service Provider
---
Who are Diamond MT and why did they switch conformal coating masking boots?
Diamond MT is a leading conformal coating and parylene subcontract coating service in the USA. As part of their process, they use all types of conformal coating masking materials including masking boots. Their current conformal coating production with the boots was costing several thousand dollars per month and was a significant cost to the process. SCH and TFP works with DMT on many projects and with their new range of masking materials decided to approach them to help reduce their costs.
To start the process SCH provided a free trial of the conformal coating masking boots which were tested at the Diamond MT facility and subjected to a series of processes to prove there suitability. The boots were exposed to many conditions including the toughest test of all, parylene masking, which demands a superior product to ensure the best results. The results were conclusive. The masking boots worked well. So, now it came to down to costs.
---
So why did Diamond MT switch to our masking boots?
When the analysis was completed, it was found pricing for our conformal coating masking boots was lower by 30% compared to their current supplier. This made a significant saving to Diamond MT and immediately a trial production run was started.
What was really interesting was after using them in the first month, Diamond MT found the masking boots lasted twice as long as their original boot from the alternate supplier. This meant that now Diamond MT has halved the volume of boots they order and this has reduced their costs by 60% for the year.
This saving of 60% has meant what started as a simple trial led to a huge saving to Diamond MT as a partner with SCH.
---
Free Trial and Money Back Guarantee on any purchase
We are so sure we have a superior product that we are happy to provide a free trial of our conformal coating masking boots so you can test for yourself just how good they are. We can then work out your Return on Investment based upon how many boots you need.
If you then place an order with us and you don't save money then we will give you your money back. GUARANTEED!
Click here to order your FREE TRIAL of conformal Coating Masking Boots and start saving NOW.