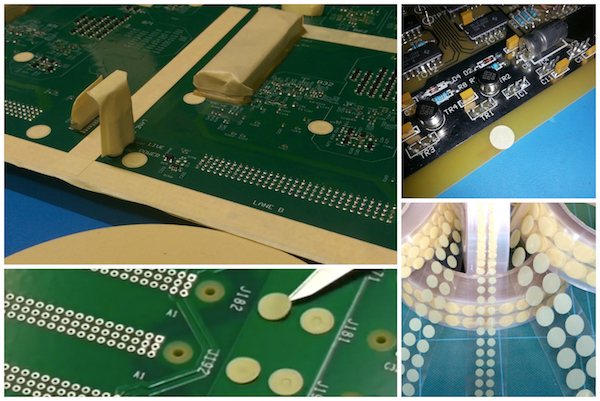 Thin Film Partners range of conformal coating masking dots are used in our own global coating services for liquid.
We have carried out a large amount of conformal coating research and trials and these masking dots are a tried and tested solution for us in our facilities.
---
Masking dots available
The conformal coating masking dots sizes available in the range of 3mm, 4mm, 6mm, 8mm, 9mm and 10mm.
They are typically supplied on rolls for easy use.
---
Why use our conformal coating masking dots?
Some masking dots and tapes have problems being used for conformal coating processing.
The issues include:
Leaving residues when removed which need to be removed
Allow bleeding under the dot of the conformal coating during application
Tearing when removed
Reacting in an adverse way with the conformal coatings themselves.
Therefore, it is crucial to minimise these effects as much as possible and provide perfect protection to ensure areas remain free of the coating .
---
Conformal coating masking
Many companies utilise conformal coating masking materials such as tapes, dots and masking boots to protect certain areas of their printed circuit boards from conformal coatings during application. This is because a lot of components on printed circuit board must remain uncoated.
The purpose of the conformal coating masking materials is to prevent migration of the conformal coatings into components and keep out areas.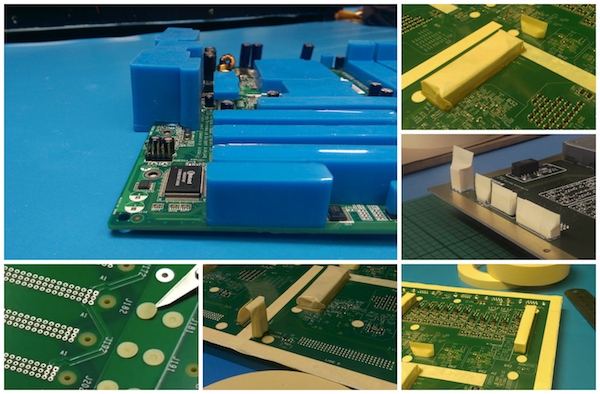 Thin Film Partners provide a range of tapes, dots and masking boots that meet the highest standards required for liquid conformal coating ensuring the products are price competitive.
---
Masking FAQs
Our comprehensive FAQs section has many questions relating to masking boots.
Find out more here with our Conformal coating masking FAQ's
Contact us now.