Thin Film Partners range of conformal coating masking tapes provide a complete solution to the issue of conformal coating masking.
These masking materials are used in our own global coating services and are a tried and tested solution.
---
Masking tapes available
TFO offer two types of masking tape which compliment each other in the process:
Silicone free tape is used for masking components like connectors on the printed circuit board.
This tape is available in sizes 3mm, 6mm & 12mm.
Crepe tape is used for masking grounding planes and flat sections such as edges of PCBs.
The crepe tape is available in sizes 3mm, 6mm, 9mm, 12mm, 25mm, 28mm and 50mm.
---
Why use our masking tapes?
Thin Film Partners have trialed and tested a lot of different masking tapes over a long period of time.
Some adhesive tapes have problems being used for conformal coating processing and these issues included:
Reacting in an adverse way with the conformal coatings themselves to produce de wetting effects
Leaving adhesive residues when removed which need to be removed
Allowing bleeding / leaking under the tape of the conformal coating during the application process
Not staying sealed for long enough during processing
Tearing when removed from the circuit board leaving residues of the tape behind
Compatible with all types of conformal coatings including solvent based acrylic, silicone and polyurethane materials
Therefore, it was crucial for Thin Film Partners to minimise these effects as much as possible in our coating services.
We wanted to provide the perfect protection to ensure areas remain free of the coating at a cost in terms of materials and labour that was sensible.
---
The conformal coating masking process
Many companies utilise conformal coating masking materials such as tapes, dots and masking boots to protect certain areas of their printed circuit boards from conformal coatings during application.
Many components and printed circuit board locations must remain uncoated and the purpose of the conformal coating masking materials is to prevent migration of the conformal coatings into components and keep out areas.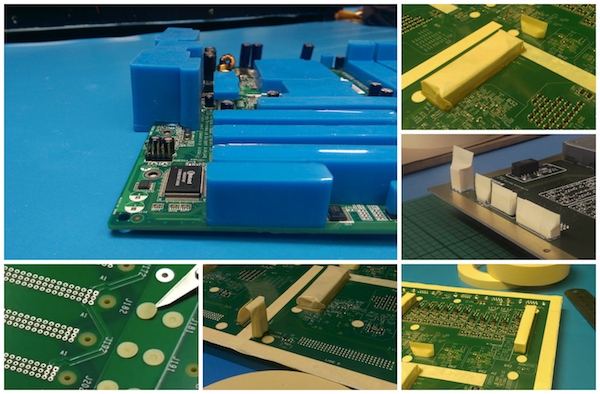 Thin Film Partners provide a range of tapes and masking boots that meet the highest standards required for liquid conformal coating ensuring the products are price competitive.
---
Masking FAQs
Our comprehensive FAQs section has many questions relating to masking boots.
Find out more here with our Conformal coating masking FAQ's
Contact us now.